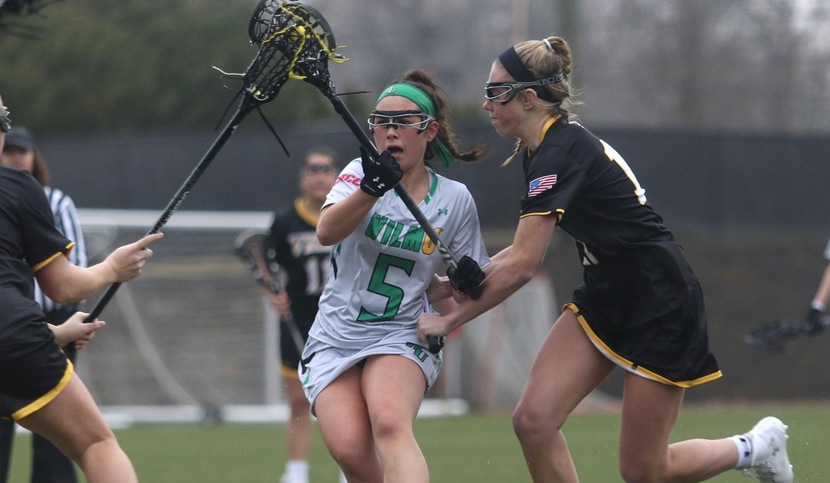 FLUSHING, N.Y. - - After closing the gap to a single goal late in the first half, the Wilmington University women's lacrosse team couldn't stop Queens, as the Knights rattled off five straight spanning the halftime break to take control and win 18-9 on Saturday at the QC Lacrosse Field.
The Knights (4-1) scored with five seconds left in the first half and rattled off the first four of the second half to take a 12-6 lead. The Wildcats (1-5) broke the streak with a goal from Mikailla Spencer, but the Knights answered once again with six straight marks to break the game wide open on their way to victory.
Queens started the game with four straight goals to lead 4-0 with 19:54 left in the first half. The Wildcats got on the board with a goal from Lashay Ross, but the Knights scored three of the next four to lead 7-2 with 6:57 to play in the first.
Taylor Lambeth got in on the scoring, starting a four-goal stretch for the Wildcats late in the first half. Marisa Parker scored off a pass from Sam Foster before Ross added back-to-back goals to bring the Wildcats to within 7-6 with 41 second showing on the scoreboard. Ross controlled the ensuing draw, but a turnover gave the Knights one final chance. The Knights had a successful clear and scored with five seconds to play to head into the break, 8-6.
Out of the break, the Knight put four up on the board to lead 12-6 with 23:58 to play in regulation. Spencer scored but the Knights answered with the next six to take control of the game. Sam Foster scored the final two goals for the Wildcats, but it was too little too late as the Wildcats fell, 18-9.
Ross led the Wildcats with three goals and tied her career best with 10 draw controls. Foster scored twice while adding an assist to go with a team high three ground balls. Maddie Hurm made eight saves in goal for the Wildcats.
The Wildcats led the game in draws, 17-12, but committed 26 turnovers to the Knights' 21. Queens outshot the Wildcats, 36-29, and scooped up more ground balls, 30-19.
The Wildcats return to action when they open Central Atlantic Collegiate Conference play on Wednesday night. They head to Chestnut Hill to play under the lights. Opening draw is set for 7:00 p.m.