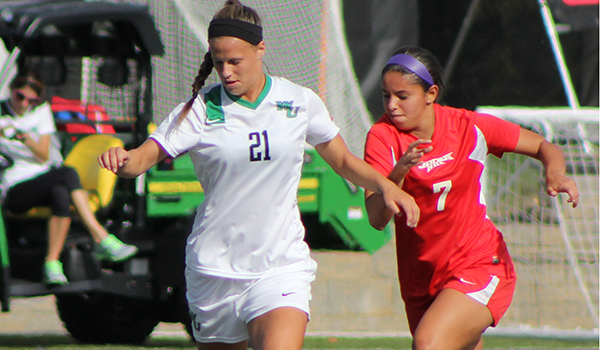 Three first half goals led to the Wilmington University women's soccer team's second straight victory as it defeated Central Atlantic Collegiate Conference foe Chestnut Hill, 3-1, on Tuesday afternoon at the WU Athletics Complex.
The Wildcats (2-4, 2-2 CACC) took the action to the Griffins (1-5, 1-3 CACC) early in the contest, using goals in the fourth, 33rd, and 45th minutes to take the momentum of the contest into the halftime break.
Redshirt freshman Loran Wyrough added to her team lead with her fourth goal to give the Wildcats a fast 1-0 lead just 3:26 into the match. Senior Chelsea Grace was in on the keeper after an excellent turn outside the 18-yard box. Griffin goalkeeper Samantha Pauls saved Grace's initial shot, but Wyrough was on the back post to stuff home the rebound opportunity.
Continuing to hold control in the contest throughout the first half, the Wildcats struck again in the 33rd minute. Using a foul 22 yards out of the left side of the 18-yard box, redshirt freshman Alexa Smalley blasted a ball over the wall and under the crossbar to score her first career goal at the 32:18 mark of the first half.
With under a minute to play in the half, the Wildcats took all the wind out of the Chestnut Hill sails as freshman Chandler Lages found herself in free on the keeper. Wyrough fed a through ball into the box to Lages who beat Pauls to her left side with only nine seconds showing on the scoreboard.
The Wildcats held a 10-2 shot advantage and took three corners in the first half to the Griffins' none.
Chestnut Hill came out fast in the second half however, putting the pressure on the Wildcats by scoring a goal in the 48th minute. The Griffins' Alissa Battaglia beat Wilmington goalkeeper Julia Brown to her right side, bringing the Griffins back into the contest.
The Griffins outshot the Wildcats, 7-6, in the second half, but couldn't draw any closer as Brown and the Wildcat defense held the visitors off the scoreboard for the rest of the game.
Brown recorded three saves in goal to earn her second straight victory for the Wildcats while Paul added to her CACC leading saves total with nine on Tuesday afternoon.
The Wildcats will look to keep their winning streak going when they return to action on Thursday at the WU Athletics Complex. The team welcomes Dowling to Delaware for a nonconference matchup starting at 3:30 p.m.