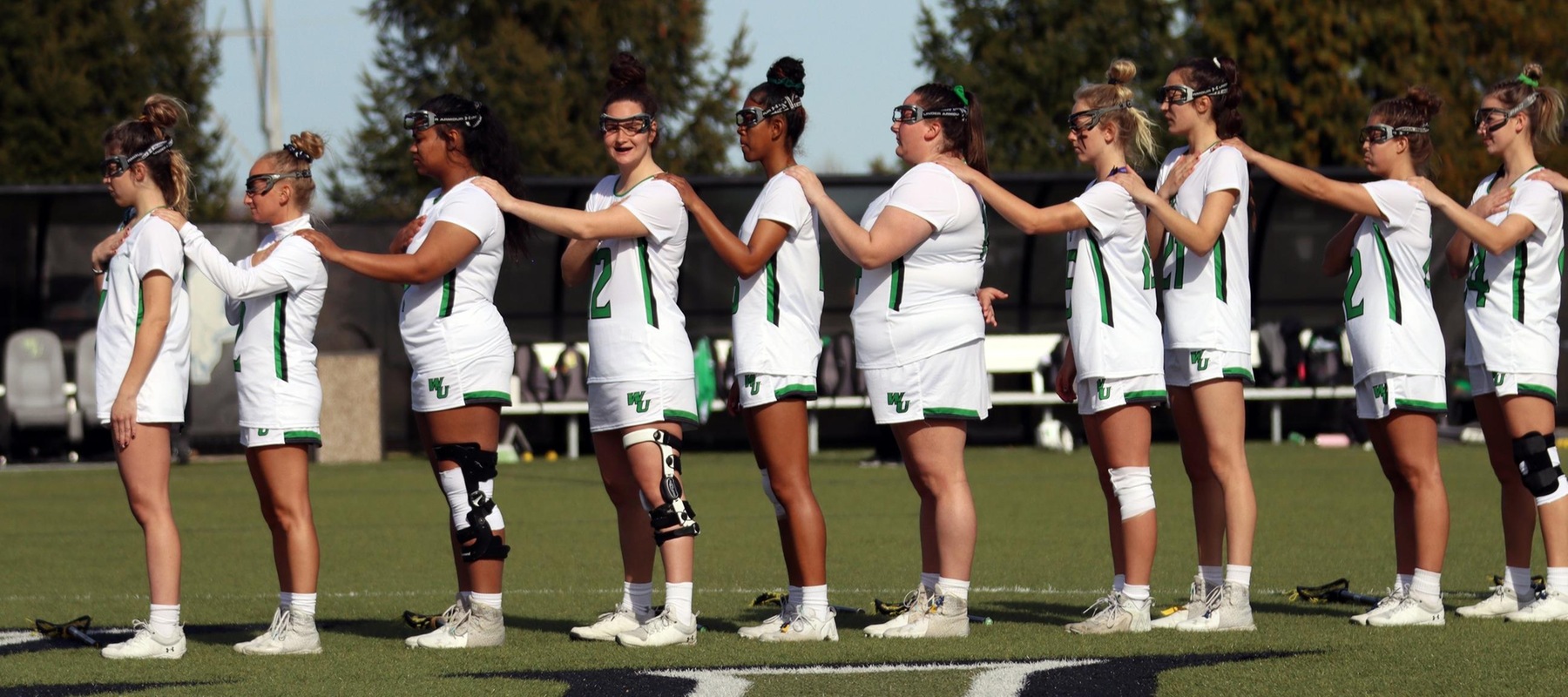 NEWARK, Del. - - Late scoring drought buried the Wilmington women's lacrosse team as Dominican scored the final seven goals of the Central Atlantic Collegiate Conference game to win, 15-9, on Wednesday afternoon at the WU Athletics Complex.
Amelie Gamache scored with 5:30 to play in the third quarter, giving the Wildcats (7-3, 2-1 CACC) a 9-7 lead in the contest. But that would be the last goal the Wildcats would score, as Dominican stormed back and scored the final eight goals, including winning the fourth quarter, 7-0.
Taylor Lambeth and Campbell Heller scored back-to-back goals in the first to give the Wildcats their first lead, 3-2. Dominican scored with eight seconds left in the quarter, tying the match after the opening 15 minutes.
The Chargers (7-2, 3-0 CACC) scored the first two goals of the second quarter, but then the Wildcats battled back with three straight from Taylor Lambeth, Ella Baynes, and Makenzie Stritzinger to retake a 6-5 lead with 6:59 to play in the half. The teams traded goals to end the half, as Heller notched another to make it 7-6 in favor of the Wildcats at the break.
The teams traded four goals in the third quarter, as Maddie Day scored with 9:03 showing on the clock. After the Chargers scored with 8:32 to play to bring it to 8-7, Amelie Gamache scored off a nice feed from Heller with 5:30 left in the quarter, and the Wildcats were up 9-7. The Chargers scored a minute later to make it 9-8 as the Wildcats led after three quarters.
But the offense stalled from there, as Dominican scored all seven of the goals in the fourth quarter. The Chargers outshot the Wildcats, 10-2 in the fourth quarter alone, as the only two shots by the Wildcats were saved.
Dominican won the draw battle, 15-11, and outshot the Wildcats, 35-23. Wilmington was 17-for-25 on clear attempts while Dominican was 18-of-21.
Campbell Heller scored three goals and added an assist while Taylor Lambeth scored two goals. Amelie Gamache scored a goal and added a team high three assists. Marisa Swanson caused three turnovers while Taylor Lambeth and Zorah Perry added two caused turnovers.
The Wildcats remain at home for their next contest, as they host Felician on Saturday in another CACC contest. The game is the first of a women's and men's lacrosse doubleheader, with the women's opening draw set for 10:00 a.m. at the WU Athletics Complex.