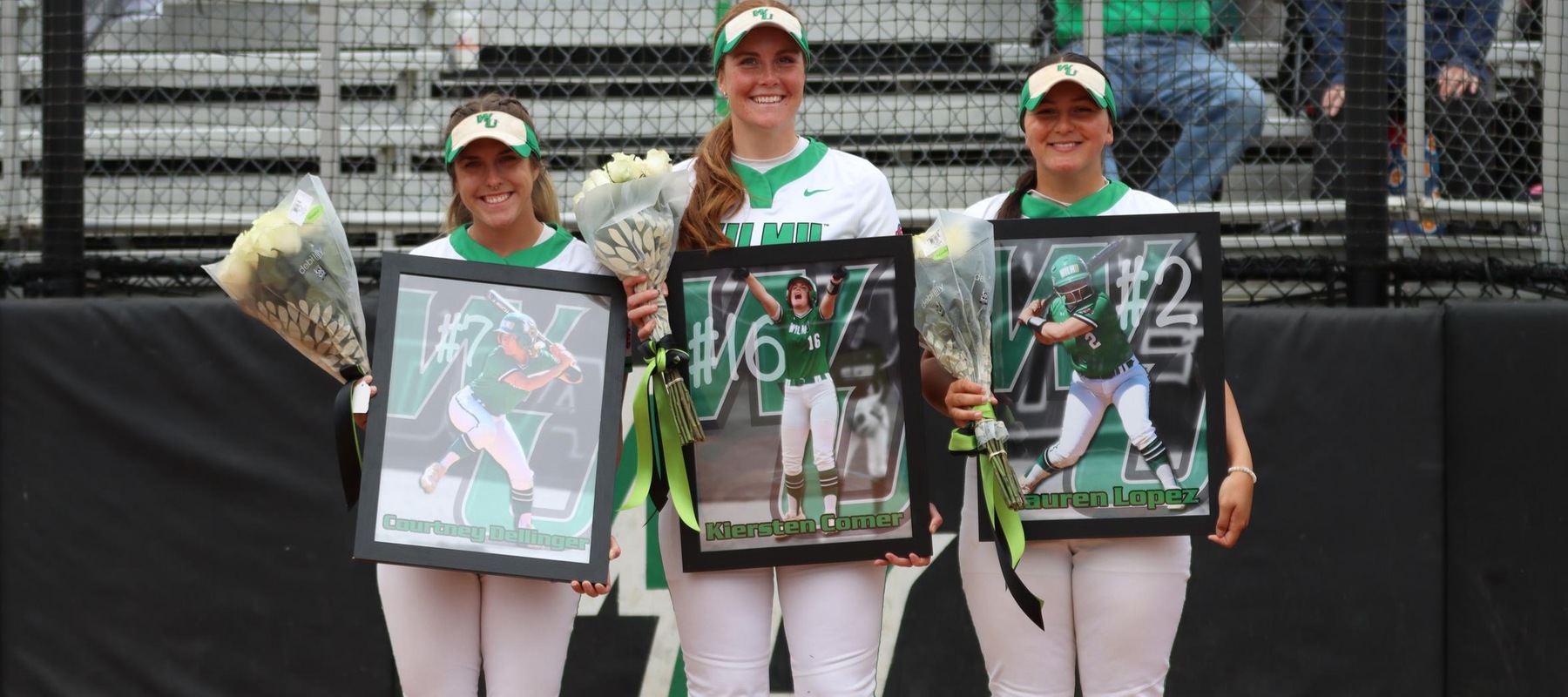 Press release written by Mitchell Coll
NEW CASTLE, Del. - - The Wilmington University Softball team celebrated its senior day at Asbury Field with two shoutout victories over Bloomfield College, 8-0 (6 innings) and 6-0, on a Saturday afternoon Central Atlantic Collegiate Conference matchup.
Three seniors were recognized at Asbury Field today as Kiersten Comer, Courtney Dellinger, and Lauren Lopez played their final games at home. Comer joined the Wildcats in the 2019 season and saw most of her time at first base. To date, Comer has 52 hits, 12 doubles, one home run, and 24 RBIs in 98 appearances for the Wildcats. Dellinger, an outfielder who has been with the team since 2019, has 119 games with 74 hits, 64 runs scored, six doubles, one triple, 28 RBIs, and 21 stolen bases. Lauren Lopez will cap off her career as the all-time RBI leader. To date, Lopez has 192 games since 2018 with 203 career hits, 42 doubles, three triples, seven home runs, and 158 runs batted in.
GAME 1:
The Wildcats' offense was firing on all cylinders in the opener against Bloomfield. The Wildcats connected on 13 hits and seven RBI amongst the team.
Kylee Gunkel pitched another gem, going the distance for a complete-game shutout. Gunkel went six innings, only allowing four hits, no walks, and striking out a season high 10 batters.
Wilmington wasted no time in the bottom of the first. Lexi Moore singled up the middle, then stole second. Once Moore was in scoring position for Saucedo, Saucedo wasted no time with an RBI double to center field, making it 1-0 Wildcats. Lopez followed with an RBI double to left-center scoring Saucedo. Emma Zimmerman wanted to join in on the double party as she hit one of her own down the left-field line scoring Lopez for the 3-0 lead.
Lexi Moore was able to get on again in the bottom of the third. Now with Moore on third, Haley Downin stepped up to the plate for an initial attempt at a sacrifice bunt but was able to get an RBI single out of the play, making it 4-0 through three full innings.
Lauren Lopez stepped up to the plate in the bottom of the fifth with the bases loaded and no outs. Lopez took advantage and hit an RBI single to right field, scoring Lexi Moore and Gabbie Saucedo followed on an error. Tristyn Stewart stepped up to the plate with one out and the bases loaded again for the Wildcats. Stewart collected an RBI on a fielder's choice, scoring Downin.
The Wildcats needed one run in the bottom of the sixth inning to close out the game. Dellinger doubled down the left-field line and then Miller connected on a double to left-center, chasing in Dellinger for the walk-off win, 8-0
GAME 2:
The Wildcats finished off the doubleheader sweep by defeating Bloomfield 6-0 in game two. They collected seven hits and two RBI.
Sara Miller picked up the first hit of game two with a single up the middle. Miller then was able to steal second base and third base and reached home on a throwing error by the catcher to give the Wildcats their first run. Lexi Moore then was able to get on base by a walk, then stole second. Gabbie Saucedo singled on a bunt to the pitcher and Moore was able to advance to third, then rounded towards home to score on a throwing error.
The bottom of the third inning started almost identically to the first inning with a single by Sara Miller, who then was able to steal second and advanced to third on a throwing error. Gabbie Saucedo reached on fielder's choice, but collects the RBI in the process, as Miller scored.
In the bottom of the fourth Kiersten Comer won the count and was walked. Pinch runner Adriana Bueno advanced to second off of a Tristyn Stewart singled, and Bueno advanced to third on an error, which also advanced Stewart to second. Sara Miller was able to double the next at-bat, which scored Bueno. Lexi Moore then reached first on a fielder's choice, but another Bloomfield error was able to score Stewart making it 6-0.
From the top of the fourth and on Renamarie Rocha only gave up one hit. Rocha pitched a complete game, going seven innings, giving up five hits while striking out eight and not allowing a walk. Rocha improves to 9-1 on the season.
UP NEXT:
The Wildcats have a quick turnaround as they travel to Nyack on Monday for a CACC doubleheader. Game one is slated for a 2:00 PM first pitch.