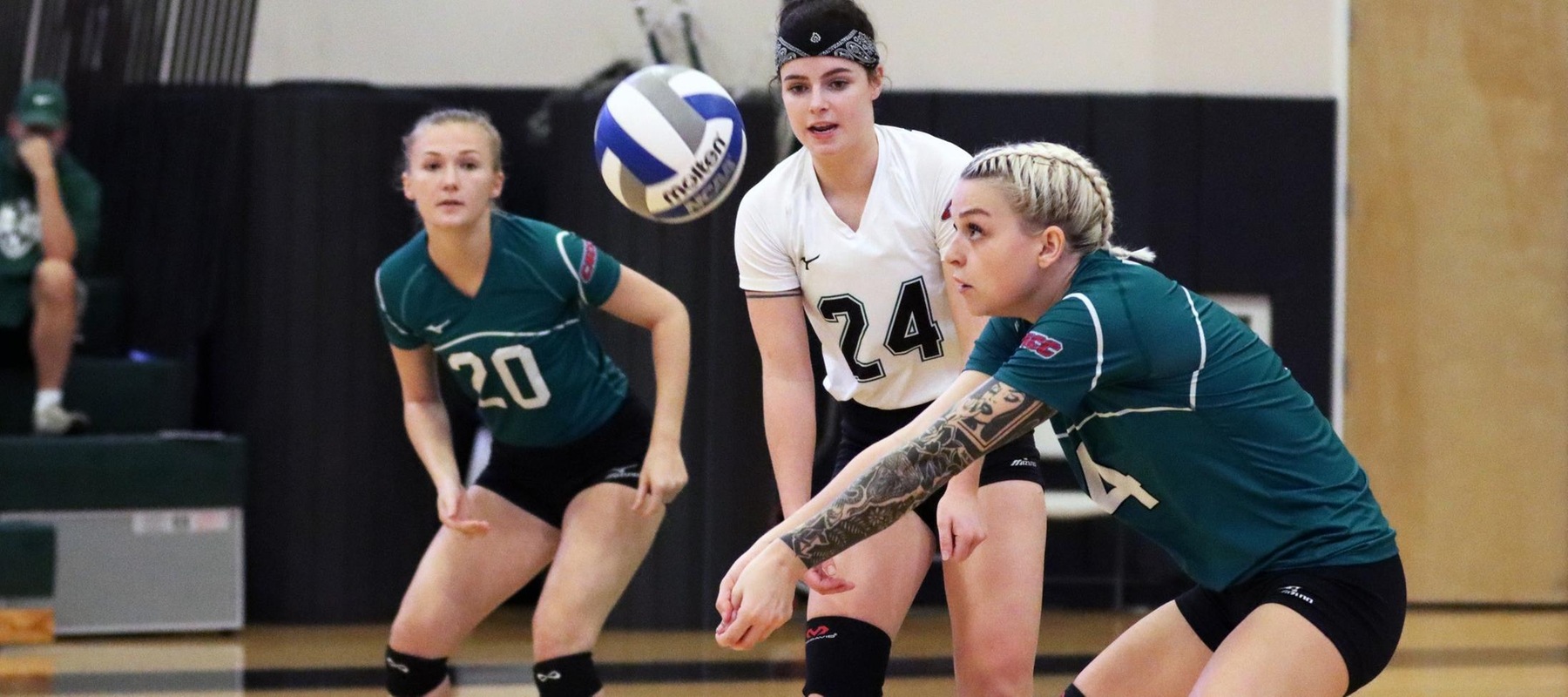 NEWARK, Del. - - A dominating performance led to the Wilmington University volleyball team's seventh straight Central Atlantic Collegiate Conference victory, defeating Nyack, 3-0, on Saturday afternoon at the WU Athletics Complex.
Set scores for the match were 25-17, 25-6, and 25-18.
The Wildcats (12-9, 8-1 CACC) held Nyack (1-13, 1-7 CACC) to hitting negative .095, coming away with 47 digs and 10 blocks in the three sets. Offensively, the Wildcats had 17 more kills than the Warriors, hitting .284 for the match with only nine errors on the afternoon. They also had eight aces in the match.
After a slow start to the match, the Wildcats found themselves down 6-2 in the first set. But things quickly turned around as a 7-3 run tied the match at 9-9. Mandy Behiels put down a kill to tie the set, 10-10, which also started an 8-0 run, which continued into a 15-1 run to gain set point, 24-11. The Warriors staved off six set points, forcing the Wildcats into a timeout, but Jessica Connelly found the floor with a kill for the 25-17 win.
The second set was all Wilmington, as they used another big run to take command. Leading 7-4, the Wildcats rattled off 10 consecutive points as part of a 14-1 run to lead 21-5. After Nyack scored their sixth point, the Wildcats scored the final four points of the game, getting a block from Syniah McMiller and Jessica Connelly to end it, 25-6.
The Wildcats jumped out to a 9-3 lead in the third set, but the Warriors fought back and eventually had it as close as 15-14. But kills from Dorie Moore and Mandy Behiels, and capped by an ace by Katie Bushong pushed the Wildcats lead out to 18-14. A four-point swing put the Wildcats in command, 22-16. The Wildcats than scored the final three points of the set, getting a kill from Connelly, and two Nyack errors to end the match, 25-18.
Wilmington was led by Heather Pedrick and Mandy Behiels who collected eight kills each. Jessica Connelly collected seven kills while Angel Oliver and Dorie Moore finished with four each. Pedrick dished out a team high 14 assists while Behiels and Elly Collins finished with a team high nine digs. Angel Oliver and Dorie Moore had four total blocks each.
The Wildcats remain in the CACC with their next contest, as they head to CACC South Division leading Holy Family on Tuesday afternoon. The first serve in Philadelphia is set for 6:00 p.m.