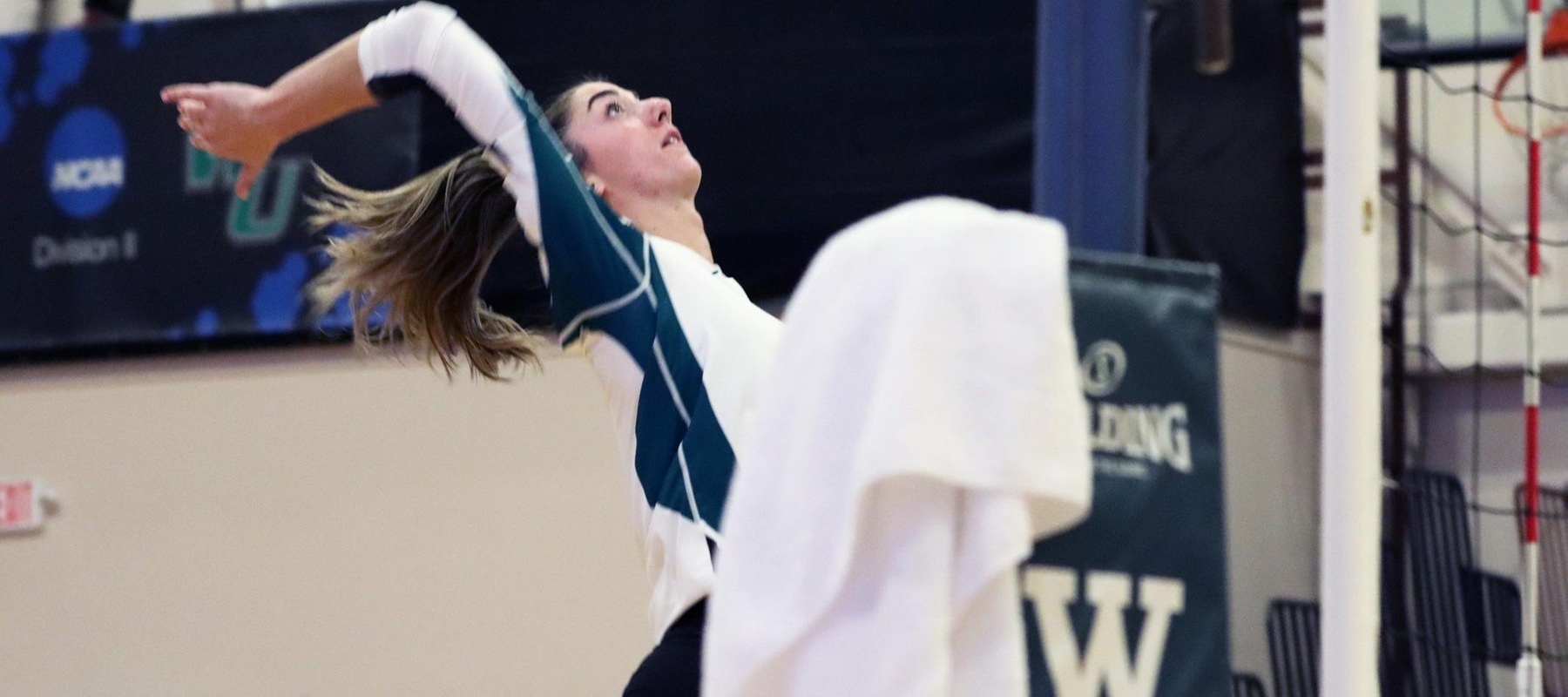 NEWARK, Del. - - The offense was clicking for the Wilmington University volleyball team on Thursday night, as it defeated Central Atlantic Collegiate Conference South Division rival Georgian Court, 3-0, at the WU Athletics Complex.
Set scores for the match were 25-17, 25-15, and 25-11.
For the match, the Wildcats hit .310 as a team with only eight errors. They capped the match by hitting .481 in the third set, putting down 15 kills with only two errors.
With the first set tied, 16-16, the Wildcats used a 6-0 run to break away, spanning both Lions' timeouts. Kacey Affrunti ended the set with a kill, 25-17.
A 6-1 run early in the second set gave the Wildcats a 12-5 lead, capped by an ace from Ki'i Rilveria. The Lions rattled off three straight points to force the Wildcats into a timeout, bringing the Lions to within, 19-14. Kills from Dorie Moore and Jess Connelly gave the Wildcats a 22-14 lead and then back-to-back blocks by Moore and Connelly gave the Wildcats set point, 24-15. Katie Bushong gave the Wildcats a 2-0 lead with an ace, 25-15.
Leading 8-6 in the third set, the Wildcats ran away with it by going on a 15-3 run. Shannen Litten ran off four points on her serve before Brice Hansen scored three points on her serve. Jess Connelly gave the Wildcats match point with a kill and then Katie Bushong ended it with an ace, 25-11.
Kacey Affrunti led the attack with 11 kills while hitting .500 for the match, only committing one error on 20 swings. Jess Connelly put down 10 kills with only two kills, hitting .333 for the match while Brice Hansen added 10 kills with a .321 attack percentage, committing only one error on the night. Katie Bushong dished out 32 assists and had three aces while Elly Collins added 11 digs and a team high four aces.
The defense at the net was also impressive for the Wildcats, as they denied the Lions 10 times. Jess Connelly and Dorie Moore had five block assists each while Affrunti finished with four block assists.
The Wildcats will look to continue their strong play on Saturday as they square off against another CACC South Division opponent in Holy Family. The first serve is set for 11:00 a.m. in in Northeast Philadelphia on Saturday.