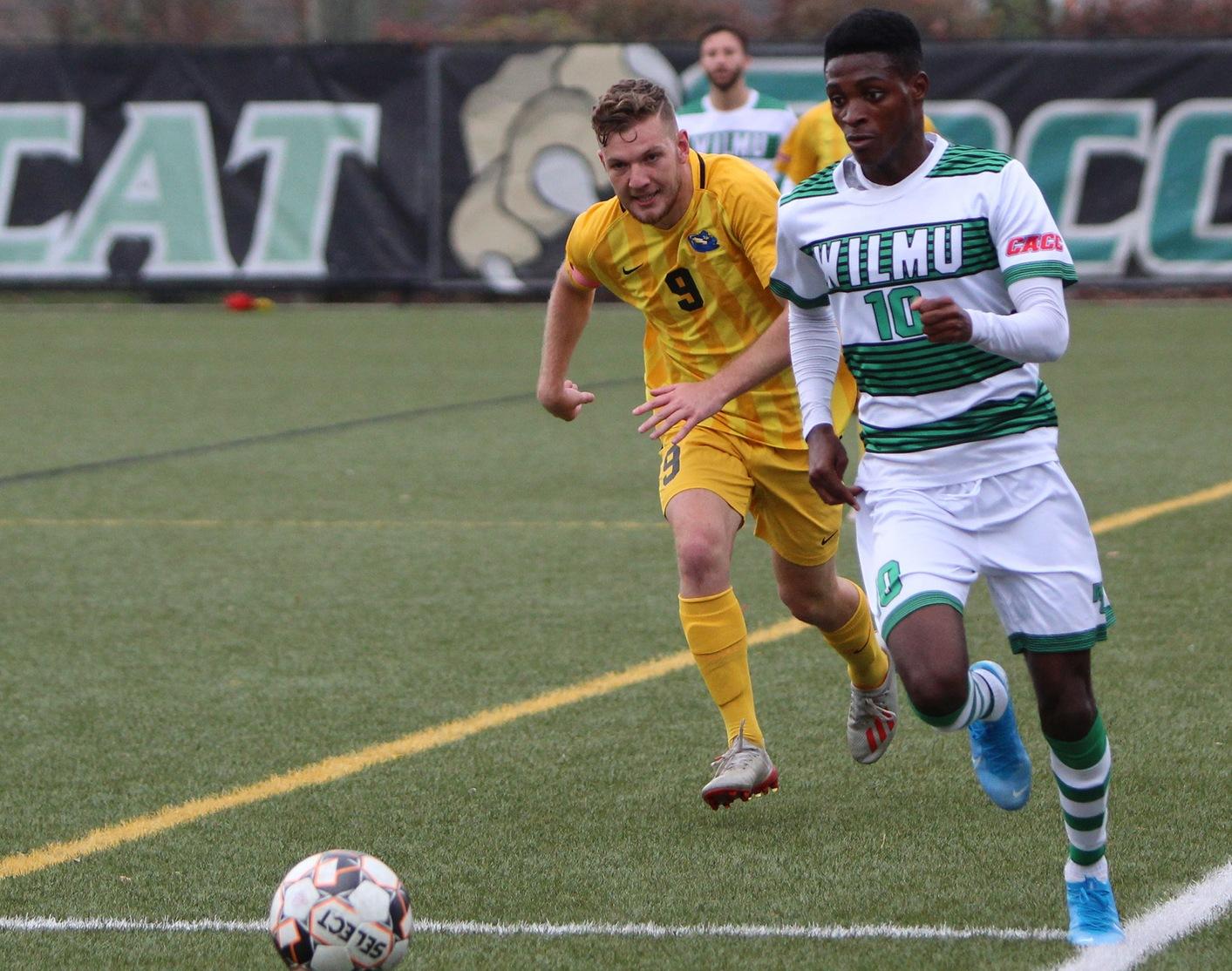 BRONXVILLE, N.Y. – Four second half goals capped off a 5-0 shutout for the Wilmington University men's soccer team over Concordia in their final regular season contest at Bronxville High School on Saturday afternoon.
The Wildcats (16-1-1, 10-1-1 CACC) capped off their final regular season game of the season with their eighth shutout of the season. It didn't take long for the Wildcats to get on the board, as WilmU capitalized off their second corner kick of the game in the seventh minute from Lorne Bickley, who scored off shot attempts from Dimitrios Topouzlis and Shawn Genus, which were blocked.
Concordia (7-8, 6-6 CACC) had seven shot opportunities in the first half, along with two corner kicks, but the Wildcats defense held on for the shutout. WilmU had 12 shots in the first half and nine corners, but would take the 1-0 lead into the break.
Five minutes into the second half, Fredrik Bentdal made it a 2-0 game thanks to Dimitrios Topouzlis and Abdul Mansaray. The No. 8 Wildcats would score two more times within 16 minutes, as Mansaray netted the third goal of the day from Keith Sanderson, before Shawn Genus netted a goal in the 66th minute from Bentdal and Taiki Kinugawa to give Wilmington a 4-0 lead.
Nick Langat would have an opportunity in the 75th minute, but would be rejected by the Clippers defense, until Mamadou Diombera got into the action with the Wildcats fifth goal from Hakim Williams.
Fredrik Bentdal, Shawn Genus, and Abdul Mansaray each had one goal and one assist for the Wildcats, as Lorne Bickley and Mamadou Diombera had one goal. Dimitrios Topouzlis dished out two assists in the win, with Keith Sanderson, Taiki Kinugawa, and Hakim Williams all adding one. Gabriel Prgomet made four saves in the net for the shutout.
WilmU outshot the Clippers, 26-13 in the contest, while securing 14 corners.
The Wildcats will have a week off before they will host the Quarterfinal of the CACC Tournament on Monday, November 11 at the WU Athletics Complex at 2:00 p.m. An opponent will be determined later on next week.