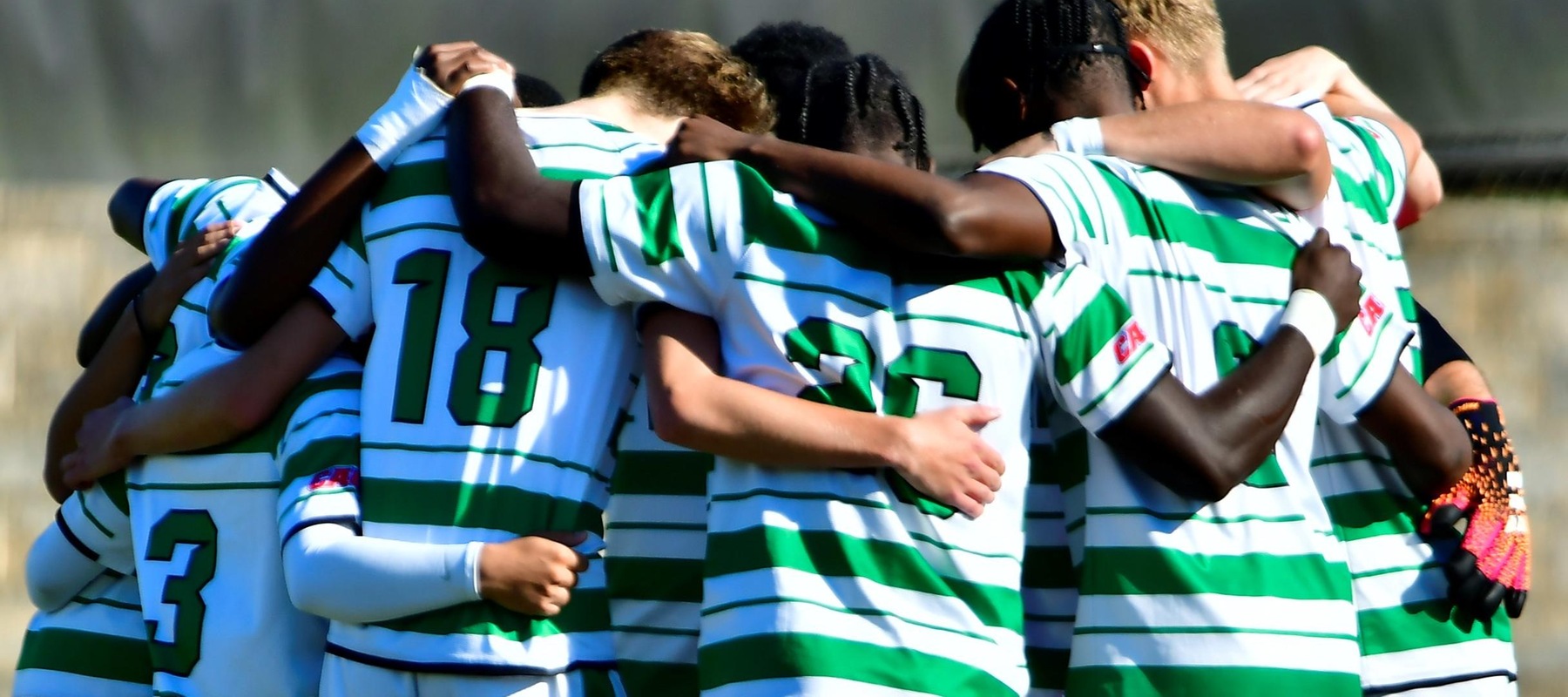 WATERBURY, Conn. - - Three would-be goals were cleared off the line as the No. 2 seed Wilmington University men's soccer team fell to No. 3 seed Dominican in the Central Atlantic Collegiate Conference Tournament Semifinals on Friday afternoon on the campus of Post University.
A pair of second half goals led the Chargers (12-5-2) to the seeded upset over the Wildcats (16-3-1). The Wildcats will now have to way to hear their name call on the NCAA Selection Show on Monday night to see if they will advance to the NCAA East Regional Tournament next weekend. The Chargers advance to the CACC Tournament Championship game against top seed and host Post University on Sunday.
The Wildcats nearly got on the board in the 19th minute, but a header by Tyrese Small that got behind the Charger goalkeeper was cleared away by a defender, keeping it out of the back of the net. A header by Carson Talboys sailed high off a corner in the 30th minute before shots from Pol Romero and Shawn Genus were saved by Lucas Silva Pereria in the 35th and 37th minutes, respectively.
The match went into the halftime break knotted at 0-0. The Wildcats led in shots, 7-1, and corners, 3-1, in the opening 45 minutes.
Dominican started the second half off strong, getting a shot on goal in the 47th minute that was saved by Konstantinos Parisis. But Parisis was unable to get a hand on the next shot, as Marouf Barry buried an attempt from just outside the 18-yard box to the top left corner, getting on the board at the 54:48 mark of the second half.
The Wildcats ramped up the pressure and nearly knotted the game in the 62nd minute, but were once again denied on the goal line. Marius Skattum Dahl's initial attempted was blocked but than a header from Hakim Williams again beat the keeper, but stayed out of the back of the net as the Chargers cleared it away.
Moments later, Shawn Genus had a chance as well, getting around a hard charging goalkeeper as he came off his line, but the centerback raced to the ball and cleared it away at the 70:33 mark to keep the Chargers in front, 1-0.
With the Wildcats applying heavy pressure, the Chargers were able to add an insurance goal at the 80:00 minute mark, catching Parisis off his line and launching a ball from midfield over his head and into the back of the net.
The Wildcats could only get one more shot off in the final 10 minutes, as Shoki Yoshida's attempt was blocked.
The Wildcats outshot the Chargers, 12-9, in the game and narrowly held a 3-2 edge in corners.
The NCAA Selection Show will be aired on NCAA.com on Monday night starting at 6:30 p.m.