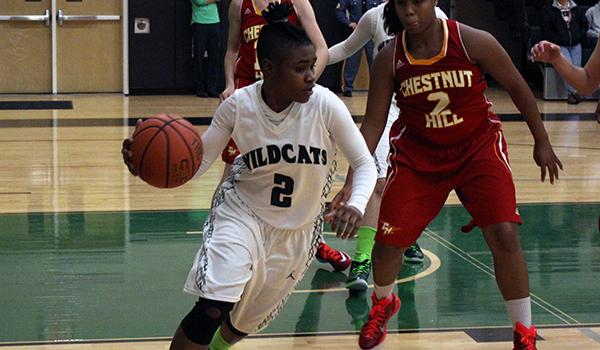 The bench scored 64 of the Wilmington University women's basketball's 84 points in leading the team to an 84-49 nonconference victory over NCAA Division III Hood on Saturday afternoon at the BB&T Arena.
The 35-point victory ties the program record for the largest since joining the NCAA for the 2004-05 season. It also sets the mark for largest road victory, besting the 31-point victory at Columbia Union (now Washington Adventist) in the 2008-09 season. The team defeated Felician, 88-53, on December 8, 2007, setting the mark of a 35-point victory.
A 14-2 run over the final 4:22 of the first half allowed the Wildcats (3-9) to carry a 39-19 lead into the halftime break, a run in which saw they take as large as a 22-point lead in the first half.
The Blazers (1-7) cut the deficit to 18 with 17:30 remaining in regulation, but that would be as close as the home team would get, as the Wildcats stretched the lead back out to 24 to 14:35 on the scoreboard.
The Wildcats used a 7-0 run, all scored by Jasmine Lee, to stretch a 21 point lead to 62-34 with 9:47 remaining in regulation before another 7-0 run eventually put the visitors up 30 with 3:37 to play. Tenicia Spence started the second run with a three-pointer followed by a jumper from Cari Callaway and a pair of free throws from Jennifer Carr.
Taylor Carter scored the final seven points for the Wildcats, starting with back-to-back three-pointers to give the Wildcats an 83-49 lead with 1:15 to play. She settled the final scored with a free throw with 38 seconds on the clock, wrapping up the scoring on the afternoon.
Spence led all scorers with 19 off the bench, 11 of which came in the first half. The junior hit five three-pointers on eight attempts while going 6-of-12 from the floor for the game. Lee scored all 13 of her points off the bench, going a perfect 7-of-7 from the free throw line. Carter ended with 10 points off the bench, hitting 3-of-4 from deep.
Freshman Ebonee Dixon talled eight points off the bench, adding six rebounds, two blocks, and three steals while Katara Pressley added seven points off the bench as well. Carr led the Wildcats with seven rebounds while Tashea Plummer, Dixon, and Lee grabbed six boards each.
AS a team, the Wildcats hit 8-of-14 from three-point territory and made it to the charity stripe 35 times, making 26.
Wilmington heads into the NCAA Division II mandatory break on a two game winning streak and will look to stretch it to three when it returns to Central Atlantic Collegiate Conference action on January 3 at Bloomfield College. Tip-off is set for 1 p.m.