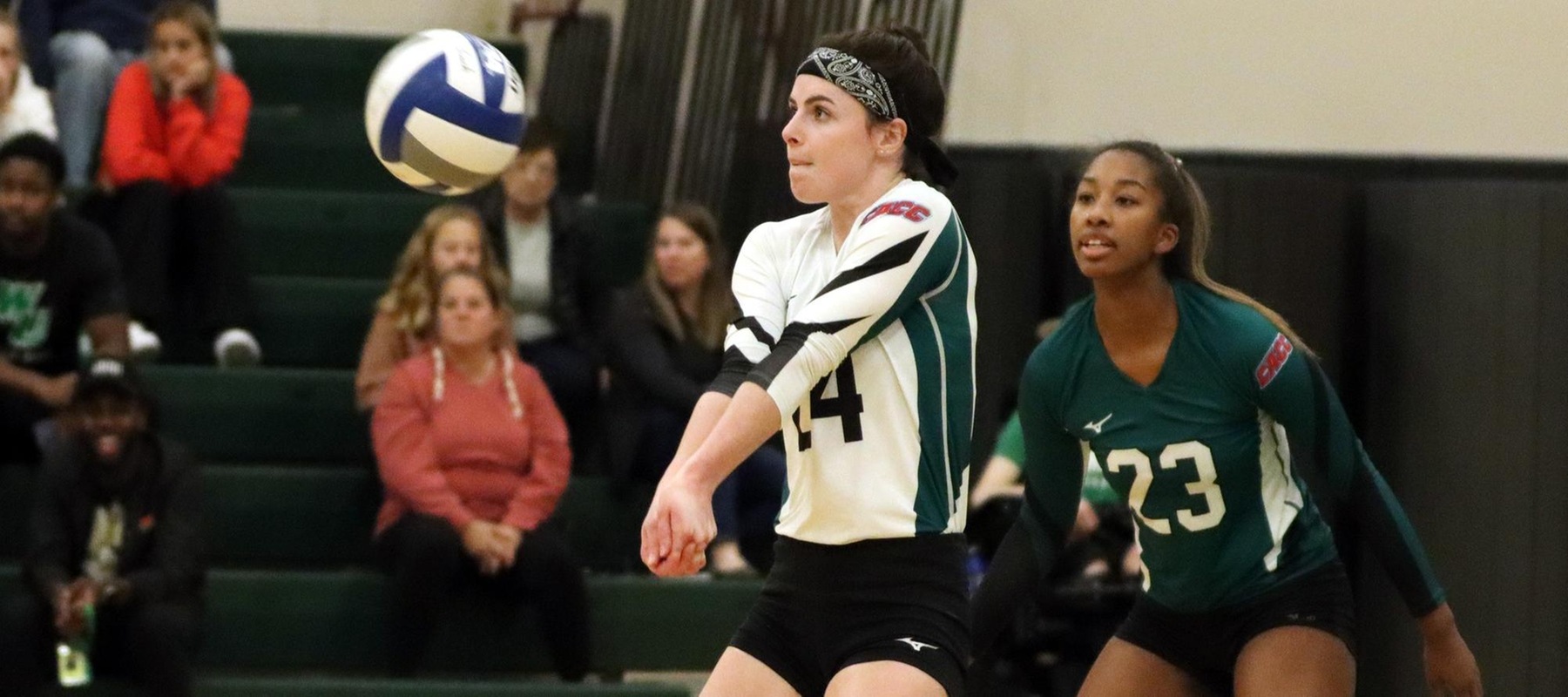 CALDWELL, N.J. - - The Wilmington University women's volleyball team won its third straight match with a 3-0 Central Atlantic Collegiate Conference victory over Caldwell on Saturday morning inside the Newman Center.
Set scores for the match were 25-18, 25-19, and 25-23.
The sweep was the third in a row for the Wildcats (15-14, 11-5 CACC) who get above .500 for the first time this season. The Wildcats hit .259 for the match, led by Kacey Affrunti (no errors) and Brice Hansen (one error) who had 11 kills each.
The Wildcats jumped out to a 5-0 lead in the first set and then used another 5-1 run to take an 11-6 lead with a kill from Dorie Moore. The teams traded points back and forth until back-to-back kills by Heather Pedrick gave the Wildcats set, point, 24-17. Pedrick eventually finished off the set with another kill, 25-18.
The teams traded the first 14 points of the second set and then a 3-0 run put the Wildcats ahead, 14-9. The run continued into a 6-1 spurt for the Wildcats, as Pedrick served up an ace to lead, 17-10. The Cougars battled back to within 19-15, but the Wildcats got kills from Kacey Affrunti, Dorie Moore, and Brice Hansen to take a 22-15 lead. Caldwell closed the gap to within 23-19, but Pedrick and Moore finished the set with back-to-back kills, 25-19.
The teams traded the first 12 points in the third set, but then the Wildcats rattled off four consecutive points to lead 10-6. The Cougars tied the match, 11-11, and then again at 15-15, 16-16, and 17-17, before kills from Brice Hansen, Dorie Moore, and Elly Collins put the Wildcats ahead, 20-17. Caldwell stayed alive and tied the set, 22-22, but the Wildcats scored back-to-back points with kills from Jess Connelly and Brice Hansen to score match point. The Cougars saved one match point but then Kacey Affrunti put down a kill to end the match, 25-23.
Kacey Affrunti hit .407 with 11 kills while Brice Hansen hit .294 with 11 kills as well. Heather Pedrick put down 10 kills and added 10 digs while Dorie Moore added seven kills with only one error to hit .353.
Katie Bushong dished out 35 assists and added 11 digs for the double-double while Elly Collins led the back row with 31 digs in the match.
The Wildcats are a game above Chestnut Hill in the CACC South Division with one match to play. They host Holy Family on Wednesday at 7:00 p.m. at the WU Athletics Complex.