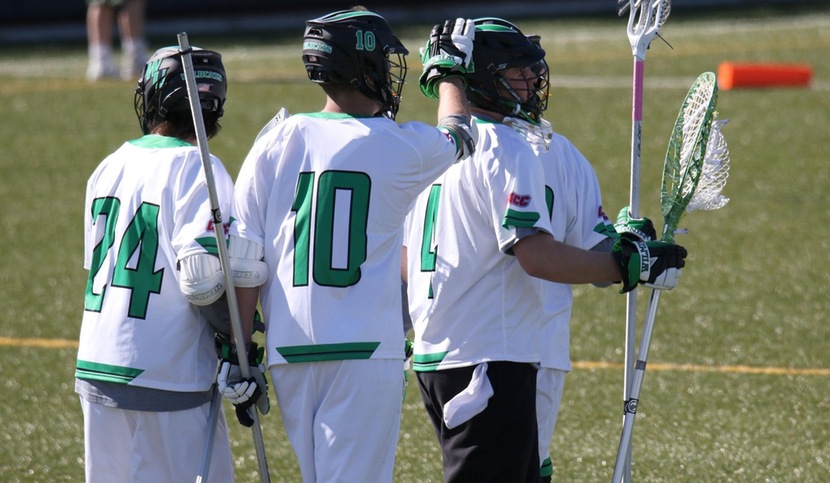 NEWARK, Del. - - A long scoring drought hindered the Wilmington University men's lacrosse team as they suffered a 15-6 nonconference loss to Assumption on Sunday afternoon at the WU Athletics Complex.
The Wildcats (0-2) scored the game's first goal but then went 44:37 of game action before lighting up the scoreboard again. The Greyhounds (1-0) scored 12 unanswered goals to take control of the game.
Cory Melvin got the Wildcats off to a quick start, using a bounce shot to sneak under the crossbar just 1:48 into the contest for Wilmington's first ever lead in a game. The Wildcats posted another shot on goal with their next possession, but Josh Burley's attempt was stopped and Assumption was going the other way.
The visitors tied the game with their next shot at 10:52 and took the lead for god with another goal with 8:11 left in the first half. The Greyhounds went on to score five goals in the first quarter, and put up five more in the second quarter to take a 10-1 lead into the halftime break.
Action slowed in the third frame, but the Wildcats were still unable to get on the board in the third quarter. Assumption scored twice to lead 12-1 with one quarter to play.
The Wildcats broke the drought 1:25 into the fourth quarter, as Melvin scored again from Austin Wood. Dylan McCleaft scored his first goal as a Wildcat to make it back-to-back goals for Wilmington to get to within 12-3 with 12:57 left in regulation.
The Greyhounds answered with back-to-back goals of their own, but the Wildcats finished strong with three of the final four goals of the game.
McCleaft added his second goal of the game with 6:51 to play before Jake Gies scored his first tally as a Wildcat with 2:13 to play. Josh Burley got on the board with a late goal from Melvin, bringing the final score to 15-6.
The Greyhounds held the advantage on face-offs, 14-11, and went 17-of-20 in clear opportunities. The Wildcats went 9-of-16 in clear opportunities and turned the ball over 23 times.
Noah Given made 15 saves for the Wildcats while starting Greyhound goalkeeper Colby Hamwey made three stops on four shots for the win.
The Wildcats return to action with their first road game of the 2018 season, as they head to Chowan on Wednesday for an afternoon contest. The opening face-off is set for 2:00 p.m. in Murfreesboro, North Carolina.