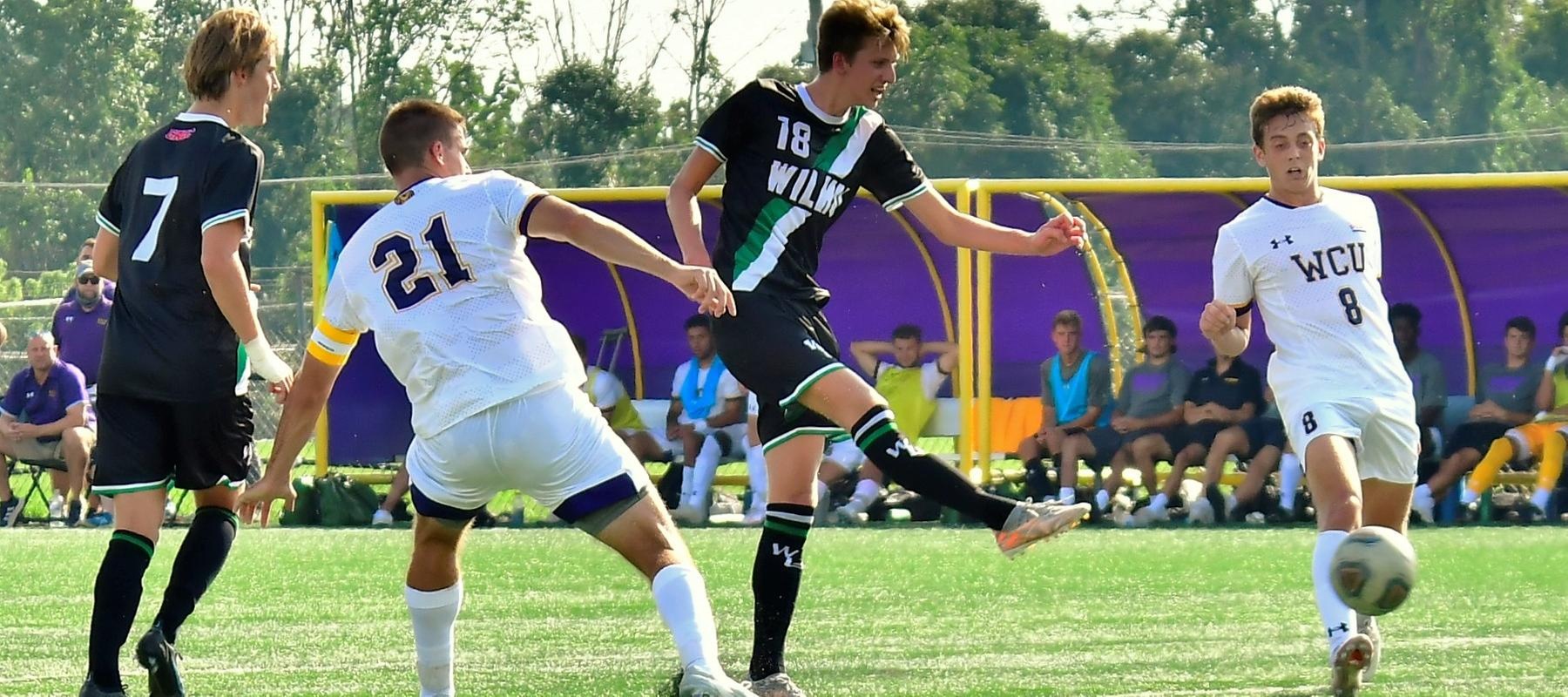 WEST CHESTER, Pa. - - A goal in the 86th minute allowed West Chester to salvage a 1-1 tie with the No. 13 ranked Wilmington University men's soccer team on Wednesday afternoon at Rockwell Field.
The Wildcats (2-0-1) seemingly had the contest under control, outshooting the Golden Rams (0-0-1), 22-9, for the contest, including 12-0 in the first half. But it was hard for the Wildcats to find the back of the net, only getting one goal in the 24th minute.
The Wildcats poured on the shots in the early going, but West Chester goalkeeper Daniel Good made stops on Shawn Genus, Yohan Kim, and Richard Thompson to keep the game scoreless. Eight minutes later, the Wildcats put back-to-back chances on frame again, but shots from Reinoud van Eijk and Shoki Yoshida were also stopped.
But the Wildcats broke through in the 24th minute as Marius Skattum Dahl's shot beat Good low and to his right from 18-yards out. Richard Thompson played a ball form the right side into the box and Shawn Genus one-touched it to charging Dahl. He one-timed his shot to his left, going far post to put the Wildcats on the board.
The shots kept coming for Wilmington in the first half, but Daniel Good was able to make eight saves in the first half to keep his Golden Rams in the contest.
West Chester nearly tied the game in the early going of the second half, nit a Doug Goitia shot in the 50th minute hit off the outside of the post and bounced out. The Wildcats still outshot the Rams, 6-5, in the second half, but West Chester settled into the contest.
The Golden Rams turned defense into offense in the 86th minute, as two Rams trapped Richard Thompson deep in their own end of the field. Then Doug Goitia raced the other way, got to the endline and placed a cross right to Kresstoph Whittick in the middle of the box. He scored with 4:01 left on the clock.
Pol Romero would get on the end of a free kick in the waning moments, but his header was easily saved and the game eventually went to overtime.
Shawn Genus had the best opportunity in the first overtime as time was expiring, but his point blank shot was saved.
Reinoud van Eijk had an opportunity in the second overtime, sneaking in on the left side on a quick thrown in. But he couldn't get around the ball and his attempt went wide and play continued until the final stalemate whistle.
Konstantinos Parisis made three saves for the Wildcats while Good finished with 13 saves for the Golden Rams.
The Wildcats tough nonconference portion of their schedule continues on Saturday as they travel North to Southern New Hampshire. Kick-off in Manchester is set for 1:00 p.m.